Get Your Radiant And Youthful-Looking Skin Back
Without Painful or Expensive Treatments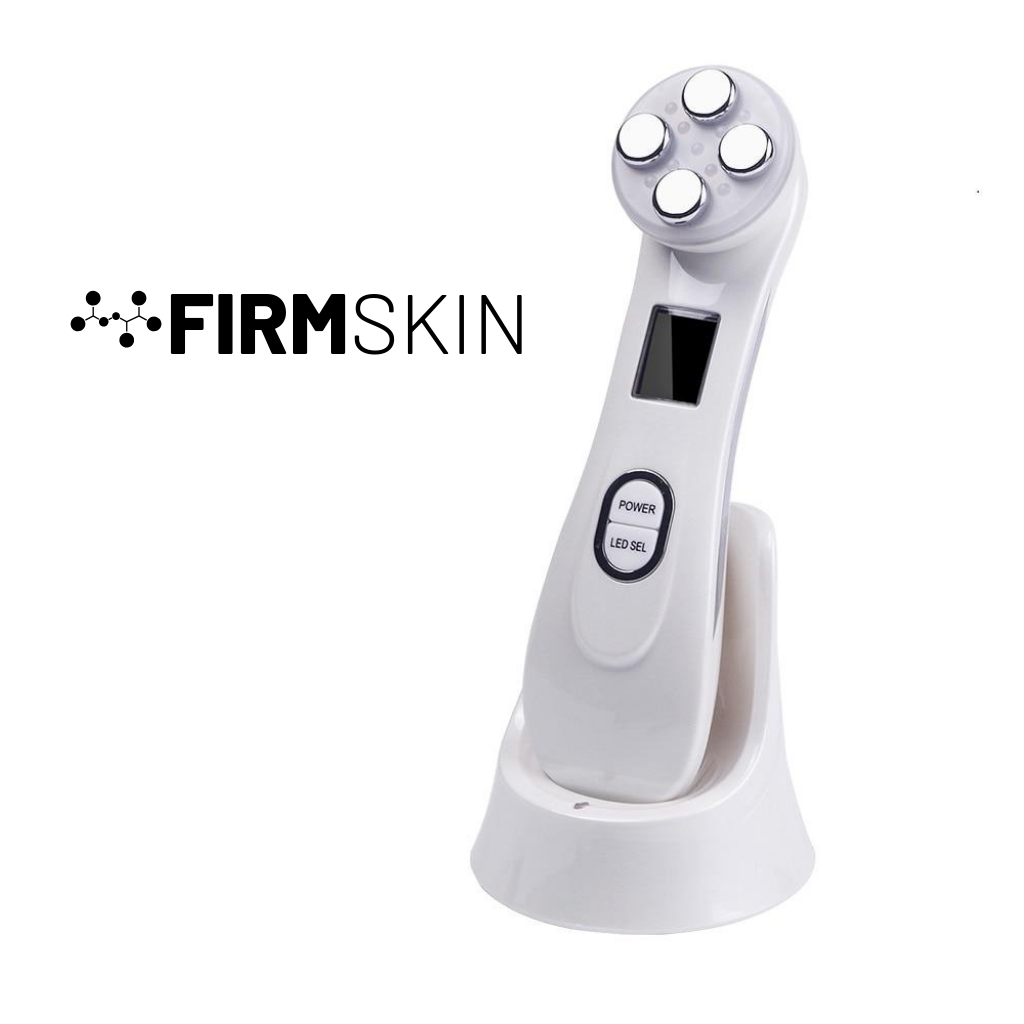 WHAT'S FIRMSKIN?
FirmSkin™ is a 5 in 1 skincare device that uses radio-frequency waves and light photon energy to promote muscle stimulation within the skin to create visible radiance and youthful-looking skin.

It promotes skin rejuvenation of collagen and hyaluronic acid by conducting muscle stimulation, mesoporation and electroporation.

"I have been using firm skin for just 2 weeks. I am seeing a difference already. I'm not having so much spot breakouts and my skin feels and looks better" - Catherine H., FirmSkin Customer

100% Money Back Guarantee!
Why FirmSkin™?

MULTIFUNCTIONAL -

Works on skin tightening, wrinkle removal, face lifting & skin whitening, reduce ageing signs and improve absorption of skincare products. Great for multiple skin conditions, blemishes, age/dark spots on face or hands and more.



REDUCE AGING SIGNS -

Improves fine lines and wrinkles, improve forehead lines and sagging jowls. Make facial muscles smoother and tighter. Skin looks a lot younger after some uses.



RF & EMS TECHNOLOGY -

Works with state of the art radio frequency and electrical perforation technology for a better and faster comprehensive skincare.



CONVENIENTLY USAGE -

Safe and easy to handle, lightweight and portable, FirmSkin™ can be carried and used conveniently even when travelling.



SAFE AND PAINLESS -

It is suitable for all skin types, whether dry or oily. 100% Safe and Painless to use on sensitive skin.



30 DAYS GUARANTEE -

If there's something wrong with your FirmSkin™, you can easily return it, hassle-free!
★ ★ ★ ★ ★
"I love it, I've only used it 4 times, BUT felt and see a difference all ready !!!"
- Angela W. 
★ ★ ★ ★ ★
"So I wasn't sure about this product but the results have been truly amazing! I have sensitive skin, and some acne scars on my face, this explains right off the bat due to skin types (oily, combination, dry, etc) what level of rf you should use for the most effective treatment without exacerbating your oil glands...easy to understand directions and the results have been incredible."

- Bianca P.
★ ★ ★ ★ ★
"I love mine !! ❤️ use it daily ! And you can see and feel a difference. It's relaxing ! I keep it on my nightstand and use it every night watching tv."
- Tammy Crowe
★ ★ ★ ★ ★
"I have no words to say how much I'm loving FirmSkin. At first I tought it didn't work but kept using for two weeks and my skin feels so good now!"
- Julia W.
Shop with us
today

and feel the difference!
100% Money Back Guarantee
Order right now with confidence!
Try it out for

30 days

and if there's something wrong with your product, you can send it back and we will refund it right away. There's absolutely no-risk in giving it a try!
txtcont:--:


:|~|:txtblclass:--:ba-20064574:|~|:ttl5cont:--:
Save 60%
:|~|:ttl5blclass:--:ba-20064573:|~|:ttl4cont:--:

$39.96

:|~|:ttl4blclass:--:is-custom ba-20064556:|~|:ttl3cont:--:

$99.90

:|~|:ttl3blclass:--:is-custom ba-20064557:|~|:ttl2cont:--:
1 FIRMSKIN
:|~|:ttl2blclass:--:ba-20064567:|~|:slctvrnt:--::|~|:shwqty:--:true:|~|:selclass:--:js-best-value-not-select:|~|:qty:--:1:|~|:prdurl:--:/cart:|~|:prdimgtp:--:variant:|~|:prdbtnltp:--:cart:|~|:prdbtnelt:--::|~|:prdbtncpt:--:BUY NOW!:|~|:prdbtnclass:--:zpa-button-padding-medium bcss-20064554:|~|:prdbtnalign:--:zpa-button-alignment-center:|~|:prdblclass:--:ba-20064554:|~|:lblvisattr:--:data-hidden-label:|~|:lbltxtcont:--:BEST VALUE:|~|:lblmdltxt:--::|~|:lblblclass:--:ba-20064576:|~|:imgimgattr:--:alt="" src="https://cdn05.zipify.com/FZbtaT1RlRRkIO53IeyWeg7TnjU=/fit-in/960x0/50165a4874f344e28e2dc6e0ae8614b9/firm-skin-images.png" sizes="960px,830px,720px,590px,450px,220px" srcset="https://cdn05.zipify.com/CA8jptmTHau0lo2Trl1QhA24NuQ=/fit-in/220x0/50165a4874f344e28e2dc6e0ae8614b9/firm-skin-images.png 220w, https://cdn05.zipify.com/QZcvCieIYGKAt673xbFCRk-hCfY=/fit-in/450x0/50165a4874f344e28e2dc6e0ae8614b9/firm-skin-images.png 450w, https://cdn05.zipify.com/wXT9cNAb55S47pvb1hKw-YcJAyI=/fit-in/590x0/50165a4874f344e28e2dc6e0ae8614b9/firm-skin-images.png 590w, https://cdn05.zipify.com/hZq_LwnfyalLuY7M5g1-NwoAOMw=/fit-in/720x0/50165a4874f344e28e2dc6e0ae8614b9/firm-skin-images.png 720w, https://cdn05.zipify.com/WIaocjBzAedziU4o7dMFQw1CJoM=/fit-in/830x0/50165a4874f344e28e2dc6e0ae8614b9/firm-skin-images.png 830w, https://cdn05.zipify.com/FZbtaT1RlRRkIO53IeyWeg7TnjU=/fit-in/960x0/50165a4874f344e28e2dc6e0ae8614b9/firm-skin-images.png 960w":|~|:imgblclass:--:zpa-mobile-align--center zpa-align--center ba-20064562:|~|:img2blclass:--:zpa-mobile-align--center zpa-align--center ba-20064559:|~|:img2attr:--:alt="" src="https://cdn05.zipify.com/6KT3ieKdKv0oY-Q_GJdTrjWO77E=/c4cbd859d90349908d9b96a3a73e3c8a/best_price_footer.jpg":|~|:handle:--:firmskin:|~|:dcrt2class:--:ba-20064588:|~|:dcrt1class:--:ba-20064585:|~|:crtmsgclass:--:pcma-20064554:|~|:bvuppclass:--:uca-20064576:|~|:bvprcsvclass:--:hidden mat-20064576:|~|:bvcrnrclass:--:hidden lat-20064576:|~|:brd2blclass:--:ba-20064580:|~|:brd1blclass:--:ba-20064579:|~|:addcrtmsg:--:Product has been added to cart
txtcont:--:


:|~|:txtblclass:--:ba-20064563:|~|:ttl5cont:--:
Save 65%
:|~|:ttl5blclass:--:ba-20064575:|~|:ttl4cont:--:

$69.92

:|~|:ttl4blclass:--:is-custom ba-20064555:|~|:ttl3cont:--:

$199.80

:|~|:ttl3blclass:--:is-custom ba-20064558:|~|:ttl2cont:--:
2 FIRMSKIN
:|~|:ttl2blclass:--:ba-20064569:|~|:slctvrnt:--::|~|:shwqty:--:true:|~|:selclass:--:js-best-value-not-select:|~|:qty:--:1:|~|:prdurl:--:/cart:|~|:prdimgtp:--:variant:|~|:prdbtnltp:--:cart:|~|:prdbtnelt:--::|~|:prdbtncpt:--:BUY NOW!:|~|:prdbtnclass:--:zpa-button-padding-medium bcss-20064553:|~|:prdbtnalign:--:zpa-button-alignment-center:|~|:prdblclass:--:ba-20064553:|~|:lblvisattr:--:data-hidden-label:|~|:lbltxtcont:--:BEST VALUE:|~|:lblmdltxt:--::|~|:lblblclass:--:ba-20064564:|~|:imgimgattr:--:alt="" src="https://cdn05.zipify.com/FZbtaT1RlRRkIO53IeyWeg7TnjU=/fit-in/960x0/50165a4874f344e28e2dc6e0ae8614b9/firm-skin-images.png" sizes="960px,830px,720px,590px,450px,220px" srcset="https://cdn05.zipify.com/CA8jptmTHau0lo2Trl1QhA24NuQ=/fit-in/220x0/50165a4874f344e28e2dc6e0ae8614b9/firm-skin-images.png 220w, https://cdn05.zipify.com/QZcvCieIYGKAt673xbFCRk-hCfY=/fit-in/450x0/50165a4874f344e28e2dc6e0ae8614b9/firm-skin-images.png 450w, https://cdn05.zipify.com/wXT9cNAb55S47pvb1hKw-YcJAyI=/fit-in/590x0/50165a4874f344e28e2dc6e0ae8614b9/firm-skin-images.png 590w, https://cdn05.zipify.com/hZq_LwnfyalLuY7M5g1-NwoAOMw=/fit-in/720x0/50165a4874f344e28e2dc6e0ae8614b9/firm-skin-images.png 720w, https://cdn05.zipify.com/WIaocjBzAedziU4o7dMFQw1CJoM=/fit-in/830x0/50165a4874f344e28e2dc6e0ae8614b9/firm-skin-images.png 830w, https://cdn05.zipify.com/FZbtaT1RlRRkIO53IeyWeg7TnjU=/fit-in/960x0/50165a4874f344e28e2dc6e0ae8614b9/firm-skin-images.png 960w":|~|:imgblclass:--:zpa-mobile-align--center zpa-align--center ba-20064571:|~|:img2blclass:--:zpa-mobile-align--center zpa-align--center ba-20064577:|~|:img2attr:--:alt="" src="https://cdn05.zipify.com/6KT3ieKdKv0oY-Q_GJdTrjWO77E=/c4cbd859d90349908d9b96a3a73e3c8a/best_price_footer.jpg":|~|:handle:--:2x-firmskin™:|~|:dcrt2class:--:ba-20064589:|~|:dcrt1class:--:ba-20064586:|~|:crtmsgclass:--:pcma-20064553:|~|:bvuppclass:--:uca-20064564:|~|:bvprcsvclass:--:hidden mat-20064564:|~|:bvcrnrclass:--:hidden lat-20064564:|~|:brd2blclass:--:ba-20064582:|~|:brd1blclass:--:ba-20064581:|~|:addcrtmsg:--:Product has been added to cart
txtcont:--:


:|~|:txtblclass:--:ba-20064570:|~|:ttl5cont:--:
Save 75%
:|~|:ttl5blclass:--:ba-20064568:|~|:ttl4cont:--:

$74.92

:|~|:ttl4blclass:--:is-custom ba-20064572:|~|:ttl3cont:--:

$299.70

:|~|:ttl3blclass:--:is-custom ba-20064566:|~|:ttl2cont:--:
3 FIRMSKIN
:|~|:ttl2blclass:--:ba-20064561:|~|:slctvrnt:--::|~|:shwqty:--:true:|~|:selclass:--::|~|:qty:--:1:|~|:prdurl:--:/cart:|~|:prdimgtp:--:variant:|~|:prdbtnltp:--:cart:|~|:prdbtnelt:--::|~|:prdbtncpt:--:BUY NOW!:|~|:prdbtnclass:--:zpa-button-padding-medium bcss-20064552:|~|:prdbtnalign:--:zpa-button-alignment-center:|~|:prdblclass:--:ba-20064552:|~|:lblvisattr:--::|~|:lbltxtcont:--:BEST VALUE:|~|:lblmdltxt:--::|~|:lblblclass:--:ba-20064560:|~|:imgimgattr:--:alt="" src="https://cdn05.zipify.com/FZbtaT1RlRRkIO53IeyWeg7TnjU=/fit-in/960x0/50165a4874f344e28e2dc6e0ae8614b9/firm-skin-images.png" sizes="960px,830px,720px,590px,450px,220px" srcset="https://cdn05.zipify.com/CA8jptmTHau0lo2Trl1QhA24NuQ=/fit-in/220x0/50165a4874f344e28e2dc6e0ae8614b9/firm-skin-images.png 220w, https://cdn05.zipify.com/QZcvCieIYGKAt673xbFCRk-hCfY=/fit-in/450x0/50165a4874f344e28e2dc6e0ae8614b9/firm-skin-images.png 450w, https://cdn05.zipify.com/wXT9cNAb55S47pvb1hKw-YcJAyI=/fit-in/590x0/50165a4874f344e28e2dc6e0ae8614b9/firm-skin-images.png 590w, https://cdn05.zipify.com/hZq_LwnfyalLuY7M5g1-NwoAOMw=/fit-in/720x0/50165a4874f344e28e2dc6e0ae8614b9/firm-skin-images.png 720w, https://cdn05.zipify.com/WIaocjBzAedziU4o7dMFQw1CJoM=/fit-in/830x0/50165a4874f344e28e2dc6e0ae8614b9/firm-skin-images.png 830w, https://cdn05.zipify.com/FZbtaT1RlRRkIO53IeyWeg7TnjU=/fit-in/960x0/50165a4874f344e28e2dc6e0ae8614b9/firm-skin-images.png 960w":|~|:imgblclass:--:zpa-mobile-align--center zpa-align--center ba-20064565:|~|:img2blclass:--:zpa-mobile-align--center zpa-align--center ba-20064578:|~|:img2attr:--:alt="" src="https://cdn05.zipify.com/6KT3ieKdKv0oY-Q_GJdTrjWO77E=/c4cbd859d90349908d9b96a3a73e3c8a/best_price_footer.jpg":|~|:handle:--:3x-firmskin™:|~|:dcrt2class:--:ba-20064590:|~|:dcrt1class:--:ba-20064587:|~|:crtmsgclass:--:pcma-20064552:|~|:bvuppclass:--:uca-20064560:|~|:bvprcsvclass:--:mat-20064560:|~|:bvcrnrclass:--:lat-20064560:|~|:brd2blclass:--:ba-20064584:|~|:brd1blclass:--:ba-20064583:|~|:addcrtmsg:--:Product has been added to cart
:|zpendofcontent|: